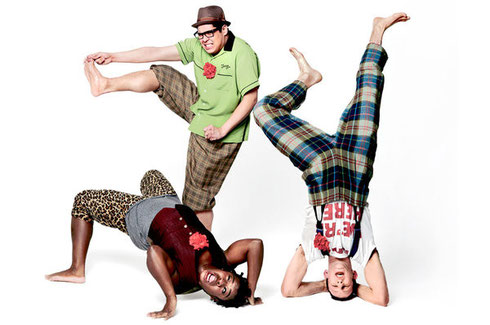 This article was originally posted by BB Vohwinkel on Evolvemovement.com
Recently, Strala Yoga in NYC shared a piece written by their founder, Tara Stiles called "Don't be a Poser". In it Tara wrote about the blessing and curse of trying to attain a certain pose in yoga class. She says "often people start practicing yoga because they want to feel better, be less stressed, more connected with themselves, healthier, stronger. Then they fall into the trap of really desperately needing to nail a pose." She's right!
As a teacher, I see students scrunch up their shoulders and brow, clench their jaw and hold their breath in order to force themselves into what they believe is the shape that I'm teaching. No amount of going slowly, stopping to relax, easing in or pleading with them to breathe will distract them from their goal. Don't get me wrong! I love the strength, flexibility and endurance that my practice has brought to my life. There simply is more to it than the poses. Learning to move into and out of any shape, and situation, without sacrificing the breath or hurting the body or spirit is the true practice of yoga.
Once, I was teaching the practice of moving from tree pose into a controlled side bend fall (literally, until the foot has to come to the floor) and one of my students kept her hand on a wall the whole time, refusing to practice falling. The practice of falling and rising again is an essential one. In fact, as babies, it was one of the first things we all practiced.
When you're on your mat in a classroom setting, it's hard to really take in everything the teacher is saying. So I want you to hear this loud and clear while you're not on your mat:
Yoga poses are not about the pose.
That's right. You read it just the way I wrote it.
Yoga poses are not about the pose. Yoga poses are about how you react to the pose, or the situation of getting into, being in or getting (often falling) out of the pose. Asana, the physical practice of yoga, is not about being good at asana. It's about being in an uncomfortable, often ridiculous situation and still being able to breathe and find some ease in your body, mind and spirit.
And while we teachers often offer a "peak pose" or opportunity to challenge yourself, keep in mind that the pose is not your practice. Your practice is moving from one pose to another, staying mindful of the space at the top of each inhale and the bottom of each exhale. That is your practice.
When a class is preparing to coming into a balance pose, for example, I tell them that it's NOT about being able to do the pose, it's about being in the mall parking lot at Christmas time. It's about being in the grocery store right before a Southern snowfall or an East Coast hurricane. A balance pose, done right, doesn't look at all like something Yoga Journal would put on their cover because the "work" to stay balanced isn't physical, it's mental.
So next time you're on your mat, halfway through your physical practice, bring your awareness to your breath ~ is it shallow? panting? are you even breathing? Are your glutes, shoulders and jaw clenched? Don't get caught up in the whys and hows. Just notice. And when your Asana practice is over, ask yourself if your world would end if you took a rest in child's pose to recover your breath next time? What would your internal dialogue sound like if you did that? Supportive or critical? Physically, if you exhaled and relaxed straining muscle groups, would you fall over? If the answer is yes, are you ok with falling over? Would you smile and move on, or berate yourself for not doing better?
Learning to be ok with giving your entire being what it needs when it's needed is the essential lesson your yoga practice is waiting to teach you. So go ahead and work on those challenging poses. But keep in mind what they're there to teach you; that balance is mixing equal parts effort and ease. That strength is staying calm during times of craziness and stress. That courage is in sweeping your arms wide and opening your heart. And that focus is staying in the moment between the moments for a long as possible.
 Then you won't just be "posing", you'll be practicing.
BB Vohwinkel,  RYT-200, teaches Hatha and Vinyasa Flow at EVOLVE Movement. She loves to dance, loves her cats and her wonderful family! BB once drove from Biloxi, Mississippi. to Omaha, Nebraska in a '67 Plymouth Valiant, pulling a u-haul trailer and trying to keep a cat calm. The car could either go 55mph or I could run the air conditioner….but not both.