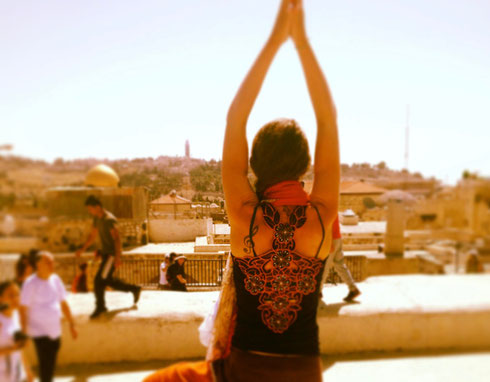 Anyone that has taken my yoga classes knows that I LOVE taking the time for yin and restorative yoga. They are my favorite classes to not only teach, but to take as well; I embrace the opportunity for deep stretches, reaching small muscles, joints and tendons that accrue stiffness or take a beating throughout the day. I preach a lot of about the importance of self-care, restoration and rest for the body, mind, and soul.

Anyone that knows ME, however, knows my approach to life in general: taking the bull by the horns, seeking adventure, and pushing myself to my physical peak. I have embraced this in academics, in running, and in travel. And most of the time, I am NOT easy on myself. I have high expectations for my academics, for how I train for adventure runs…
I know this isn't unique to me. I truly believe that we are all living to our best potential. We push ourselves at our jobs, in our exercise routine, or maybe by trying a new diet or activity. We make these shifts, engage in detoxes, looking for a new position in our jobs or spending more time at the gym… always PUSHING to be better, kicking our own butts.
I use time in yoga classes to step away from the push – to get away from the stress… to take an hour or so of a day to forget about expectations… to practice nurturing myself and guide others into nurturing themselves.  So imagine my surprise when I heard this feedback from one of my classes this week: "Wow, she really kicked our butts today!"  This had my head spinning. Have I let my competitive, pushy self overflow into yoga? The one practice that is my step away from the push? Am I pushing my students into finding that fierce edge in YOGA?
Then the next thought: maybe that wouldn't be so bad. Because what yoga is for me, might not be the same for the next person. It might be the time in the day that someone is pushing their physical boundaries or limits. It might be the time where someone is mentally pushing themselves to test their physically capacities. Just like for me, I use yoga to mentally push myself into letting go, into leaving behind the high adrenaline side of my personality if only for a moment.
So for now, I've concluded that yoga can "kick your butt" literally, or figuratively. Yoga "kicks my butt" as I ease myself into slower, more intentional movements from my day-to-day fast pace. For some, yoga might "kick your butt" more physically. That is a beautiful thing about yoga – one term, one idea can take multiple forms, differing for every individual person.   Join me this weekend in exploring a variety of ways yoga can "kick your butt;" physically, mentally, quickly and slowly…
Namaste, Amanda
Saturday 8 a.m. Vinyasa Yoga athletic flow
Sunday 8 a.m. Vinyasa Yoga and restorative flow
Sunday 4:30 p.m. Yin Yoga