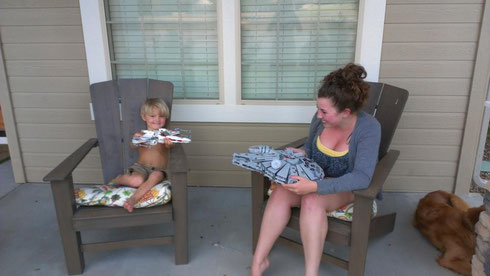 Yes, I am a Star Wars nerd.  I have been for a very long time.  As a kid, my favorite movie was Star Wars: Empire Strikes Back. My favorite toy was this little Play-doh set that made Ewoks.  Naturally, I'm excited about the new Star Wars movie.  I see a lot of "the FORCE" in yoga, so how could I miss the opportunity, to join two of my favorite things together?  
The word Hatha means "willful" or "FORCEful".  Hatha yoga is designed to align your spine.  It combines Pranayama breathing exercises with asanas to join the body and mind.  Hatha has also been translated, "Ha" meaning sun, and "tha" meaning moon, referring to opposing FORCES, the push and pull of those FORCES, and their union.

I have quite a few "Type A" students, most of whom religiously attend my 5:30AM class, and within their first few yoga classes have become mildly frustrated with themselves for not having perfected the poses.  I have to laugh a little at these yogis, because I remember being the same way.  In fact, my first yoga class was at a Bikram Studio (105 degrees, and 40% humidity), where they tell you your goal is just to stay in the room.  I stayed up and completed all poses.  I was not going to let the heat get to me.  I was not going to sit down. 
While "Type A's" are busy winning, there is a DARK SIDE to this personality; we push ourselves, and expect too much.  Excuses are not allowed, and when we hear them, we oftentimes become judgmental.  We even think, "if you just pushed yourself a little harder".  Yoga is not about being the best, the fastest, or smartest.  Yoga is a journey to find balance.  For many "Type A's", yoga is about learning to cut yourself a break.  It's about letting go of control (and stopping to think twice before force-choking the driver who cut you off), because there are a million things in our lives we have no control over.  We have to learn to accept some situations as they are, our bodies as they are, and people as they are.  If we cannot come to terms with ourselves as imperfect human beings, we will wear ourselves out.  Don't give in to the DARK SIDE. 
Human beings cannot continue to push their bodies and minds without stopping to fuel up.  Savasana is your fuel in yoga class, rest is your fuel in life. Learning to breath through your poses takes time.  Perfecting your poses takes time.  Yoga takes time. Patience takes time.  If you can tap into the LIGHT SIDE of the force,  find rest, prioritize relaxation, allow forgiveness, show love,  and welcome acceptance, you're well on your way to finding the peace you seek.  
Just remember if DARTH VADER can master Ujjayi breathing, you can too.  
-Namaste, Julie
Just a couple shots of Star Wars Legos, my son and I have put together over the years, a pair of my Star Wars Vans, and some Star Wars Cupcakes a good friend of mine made me and my kiddos for Easter one year!